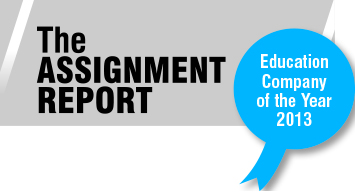 Tribal Group is The Assignment Report's Education Company of the Year 2013. Under the leadership of CEO Keith Evans, Tribal Group has transformed itself over the last three years into a leading education technology and services company focused on the UK and international markets, particularly in Australasia, the Middle East and North America. And, at a time of challenging market conditions in the UK, the company has continued to invest in new technologies and product development across its three market segments of higher education, schools and vocational training. The company is the UK market leader in university student management systems.
At the half way stage, Tribal reported an adjusted operating profit of £5.4m (2012: £4.7m), for the six months ended 30 June 2013, on adjusted revenue up 12% to £62.1m (2012: £55.4m). Around 24% of total adjusted revenue in the first half year was generated from international business, compared to 21% in FY12. The company delivered an adjusted operating profit of £13.9m in FY12 on revenue of £113.4m.
Tribal's financial performance and future prospects are reflected in the company's share price, which in 2013 out performed the market with a 66.9% increase to 171.50p at 31 December 2013.